New riders are ALWAYS welcomed and encouraged!
Follow the map & directions for each event location (see schedule). As you are approaching the area you should begin to see flagging tape or signs which give specific direction to where our pits (parking area for staging and sign-up) are located for the event.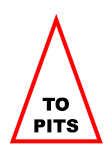 Most competitors arrive at the pits somewhere between 8:30 – 9:00am. The registration table begins sign-up at 9:00am. The fees for each day of event are $30 for members / $40 for non-members – with a maximum of $60/$80 for families living under the same household. If this is your first trials ever or a Junior rider we will waive the fee = FREE!
At the sign up table you will need to:
Show proof of an active AMA Membership (all competitors, even minors).
Sign the AMA event waiver
*Minors/parents need to sign an additional junior waiver
Decide which class (line) you will ride for the event (see Which Class Should I Ride?)
Fill out score cards (name, class, bike) and give them back to the table workers.
Optional, but encouraged: sign up to observe and score a section. If you are new, it's a great way to meet some RMTA members and get plugged in.
Before riding, you may also need to show proof of an approved spark arrestor and a current OHV tag. If you don't have these, you will not be allowed to ride.
At sign-up, it will be announced which classes will be riding in the morning and which will be riding in the afternoon – the opposite classes score or "observe" the riders. Trials is an all-day affair, so expect to be at the event from arrival until at least 4:00pm. Bring lunch, snacks, plenty of water, sunblock, and clothing for all sorts of Colorado weather!
After sign-up most riders warm up in practice areas near the pits. YOU MAY NOT PRACTICE RIDE ANY MARKED SECTIONS BEFORE THE EVENT STARTS. You should also wear a helmet at all times when riding your trials bike, even around the pits. If you don't own a trials-specific helmet that's okay, many wear either a mountain bike helmet or full-face motorcycle helmet.
Juniors and their parents will gather in the pits at 8:45 and begin riding sections at 9:00 sharp. They will ride 5 sections; each one 3 times in row. All of the sections will be within walking distance of the pits, so parents need not drive/ride to them. We will finish BEFORE 10am and do awards before first group of riders go out.
At about 9:50am horns will honk to indicate the riders meeting. The Trials Master (the person(s) who designed the sections) will give instructions on where to find the loop trail, how many sections you will be riding, and where the sections begin. When the TM releases the riders, the time begins and you will have a specified amount of time to complete all of the sections, usually about 3.5 hours. You will ride the loop trail stopping at each section to ride and will be observed for points (see rules). The scorer will punch your card and you will continue until you have ridden each section. You will then take the score card back to the score table and get a new card for each of the 2nd and 3rd loops. *When it's your last loop (3rd) it's important that you get your last scorecard and go straight into the loop because sweepers will begin clearing the loop and sections after the last rider takes their card. If for any reason you cannot complete the event, make sure you let the score table know you are leaving, otherwise we will assume you are still on the loop or injured.
When all are finished, scores are added up and medalists of each class are determined. All are encouraged to stick around for some BYO liquid refreshments, tell your tales of woe, and clap for the medal recipients. You can then drive home thinking about your new addiction and looking forward to the next event!